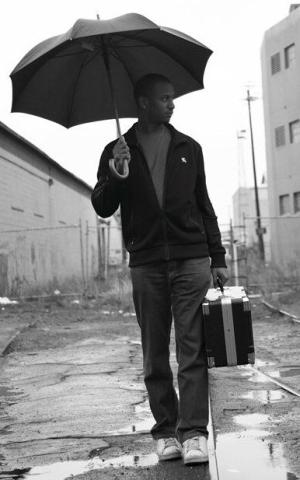 In the grand Plug One tradition of reporting stories long after they cooled, we take a look at the unfortunate debacle surrounding Zion-I producer Amplive and his aborted project, Radiohead: Rainydayz Remixes.
Last November, Amplive began leaking tracks from the remix project, and promised an all-star cast that included Del tha Funkee Homosapien, Too Short, and Chali 2na. He planned to make it available on January 10 to those who purchased In Rainbows via Radiohead's historic online offering. Only fans who had a email receipt from Radiohead's W.A.S.T.E. site would be sent a copy of Raindayz Remixes.
As the tracks circulated through the blogosphere, the media picked up on the story, and the New York Times ran a brief item on it. All of that attention, however, led to Amplive receiving a cease-and-desist letter from Radiohead's publisher, Warner-Chappell Music.
Interestingly, the date of letter is December 18, but Amplive didn't announce that the project would be halted until January 3, which indicates that there may have been some backroom negotiations. Nevertheless, on January 3 Amplive sent out a MySpace bulletin titled "Amplive vs. Radiohead":
First and foremost I would like to thank everyone who has been digging my remixes. I put a lot of time and hard work into them and I am glad people are appreciating them. I was especially excited about the exclusive verses I was able to get from Del the Funky Homosapien, Chali2na from Jurassic 5, the soul singer Codany Holiday, and K.Flay, who were all also super excited about contributing to the project. I really feel if Radiohead's team was able to hear these remaining remixed songs, they would feel differently. So I am writing this letter to ask that if you have any post/streams/mp3s of the songs from Rainydayz Remixes that you remove them immediately. Complying with the cease and desist, these remixes can't be publicly distributed or made commercially available. Even though I was offering them for free in conjunction with the In Rainbows download and had good intentions because of my appreciation for their music, the powers that may be are not seeing it the same way. Hopefully I can find a way for Radiohead to support this FREE release made available only to those who purchased their album. For now I am cooperating with the "C & D" only because it has come from Radiohead's team and I will respect that. BUT if that changes I am happy to resume my release plans. Again, I appreciate your support in posting them, but because of the situation at this time, it is illegal. Thanks for you help. – Amp Live

Amplive planned to release a free zip file of the remix record on January 10th to all those who forwarded an email receipt of In Rainbows purchase to amplive@onesevensevensix.com. In addition to unveiling the tracklist (which can be found below), Amp had planned on expanding the release model to allow those who had deleted their W.A.S.T.E. emails to reserve a copy of the album by forwarding receipt of a donation – in any amount – to Friends of the Earth, a charity Thom Yorke has officially backed on the band's Dead Air Space blog. If and when the release is allowed to move forward, all those who have forwarded receipts from W.A.S.T.E. or Friends of the Earth will receive a copy of the album. Tracklist, and more info on the charity below.
Amplive then posted a track listing of the remix project. He also posted a YouTube video explaining the situation. The track listing and a link to the video are listed at the end of the story.
In a January 4 interview with Gigwise, Radiohead manager Bryce Edge commented on the situation:
"A main problem was that he (Amplive) did a cut and paste of a photo of Thom and put it on his website which inferred he was involved in the project. When we heard that you had to send a confirmation email from W.A.S.T.E to get the album, we thought 'That's a bit naughty!'

"It wasn't a case of someone simply posting some remixes on a website, he was suggesting that the band were involved and that's why the publishers decided to take this action.

"Amplive had never even come to the band telling them about his idea, which would have been nice. I know he had good intentions, but I just think he's misled people."
Give props to Amplive for complying with the cease-and-desist order. In contrast, when Danger Mouse was presented with a cease-and-desist order for his classic The Grey Album mashup of Jay-Z's The Black Album and the Beatles' The White Album, he organized "Grey Tuesday," and called on music fans to download the album for free. Amplive could have easily launched a similar, highly-publicized protest. Perhaps he should have.
At any rate, with the media blizzard having moved on to other pressing matters, like Lil Wayne's umpteenth drug bust, Amplive is free to continue his career as part of Zion-I (a great group that got little to no mention in all of the Radiohead vs. Amplive stories). He has already begun to post mashups of other artists on his MySpace page.
It appears that Raindays Remixes was sent to members of the press, so it's possible that it may be floating around on to the Internet. Two tracks, "Nudez" (Amplive remix) and "Weird Fishez" (Amplive remix), are still posted on Stereogum's website. Good luck finding it.
Here's the track list:
1. "Rainydayz"
2. "Video Tapez" (feat. Del the Funkee Homosapien)
3. "Nudez" (feat. MC Zumbi of Zion I and Too Short)
4. "Weird Fishez"
5. "All I Need"
6. "15 Stepz" (feat. Codany Holiday)
7. "Reckonerz" (feat. Chali 2na)
8. "Faustz"
And here's the video:
{youtube}7ktqLa5HQWk{/youtube}
Plug One review: Zion-I & the Grouch, Heroes in the City of Dope
www.myspace.com/zioni
www.myspace.com/amplive