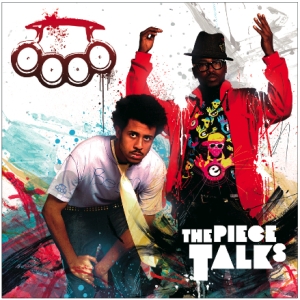 L.A. rapper Blu, co-author (along with producer Exile) of last year's critically-acclaimed Below the Heavens, and J-Dilla associate Ta'Raach have formed a new group called C.R.A.C. The duo's debut, The Piece Talks, drops April 22 on Tres Records.
"C.R.A.C. is an acronym for Collect Respect Anna Check, a name and idealism representing the movement of like-minded musicians, artists, and producers for a structural change in previous stratifications of power and belief systems," reads a press release. "Produced by Detroit's finest, Ta'Raach, the musical landscape is reminiscent to early Bomb Squad productions complimented by the left-field humor and sensitivity similar to the work of Prince Paul for De La Soul."
Some Internet nerds are already familiar with the C.R.A.C. sound. Two songs, "Love Don't" and "Bullet Through Me" have circulated online for the past few weeks. The rest of the track listing, which you'll find below, reveals a song-naming process as imaginative as their somewhat cryptic name (which is pronounced crass, by the way). Have a gander.
1. "What Up (Part 2)"
2. "Buy Me Lunch"
3. "Love Don't"
4. "Major Way"
5. "Activate (Too…)"
6. "CRACHAUSE"
7. "Respect"
8. "Pop Dem Boyz"
9. "2.16.05"
10. "Mr. Big Fizz"
11. "Chill"
12. "Hello?!"
13. "Go!"
14. "Activate (As Well)"
15. "Bullet Through Me"
16. "Cotton"
Plug One review: Ta'Raach, The Fevers