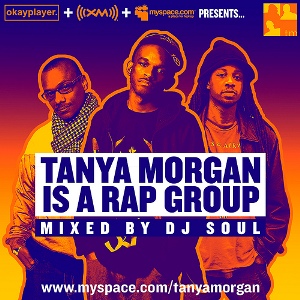 Usually, when someone releases a mixtape it isn't a big deal. But it has been over two years since Tanya Morgan released their debut album, Moonlighting, to rave reviews and backpacker fame. Since then, the Cincinnati-Brooklyn trio has spent more time updating their MySpace page and hyping themselves on Okayplayer.com's chat boards than issuing fresh material.
So Tanya Morgan is a Rap Group, which the group posted on the Internet yesterday (March 18), is cause for celebration. Mixed by DJ Soul, it has a few of the tracks from their MySpace player (the popular "Waiting for You") and new cuts produced by in-house beatmaker Von Pea along with Eric Lau and 88-Keys. It's no Moonlighting sequel, but it will do. You can download the mixtape here.
To commemorate Tanya Morgan is a Rap Group, Tanya Morgan is undertaking a brief tour of the eastern seaboard, including appearances at the A3C Hip-Hop Festival and Signal Fest. The tour dates are below.
3/20: Shadow Lounge, Pittsburgh, PA
3/21: Turntable Club, Baltimore, MD
3/22: The Loft, Atlanta, GA
3/23: Dragons Den, New Orleans, LA
3/25: Gottrocks, Greenville, SC
3/26: The Graduate, Charlotte, NC
3/27: Gypsy Hut, Cincinnati, OH
3/30: TBA, Toronto, ON
4/03: Western Front, Boston, MA
4/05: Trinity College, Hartford, CT
4/06: Castaways, Ithaca, NY
4/09: Awful Arthur's, Roanoke, VA
4/10: Knitting Factory, New York, NY
4/11: The Garage, Ashville, NC
4/12: Mansion 462, Chapel Hill, NC
4/13: The Soapbox, Wilmington, NC
4/18: The Note, Chicago, IL
4/22: University of Nebraska, Omaha, NE
3/22: A3C Hip-Hop Festival
4/12: Signal Fest
www.tanyamorgan.com
www.myspace.com/tanyamorgan