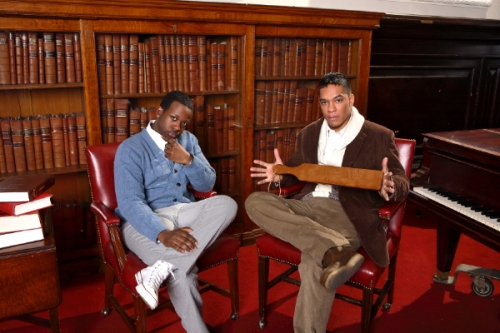 Back in August, I noted that online magazine Paperthinwalls.com was going offline after a brief two-plus years existence. I also wrote that the site should be online for a few more months in case anyone wants to check it out.
Well, time is up. I recently checked, and Paper Thin Walls now officially no longer exists. RIP.
Since Paper Thin Walls' content is no longer accessible, I decided to post an interview I completed with Kidz with the Hall for that site. The Q&A session with Naledge and Double-O breaks down each track on the group's acclaimed second album, The In Crowd. With year-end ballots coming up next month, I figured it was a good time.
Enjoy the interview, and look for part two of that Danny! interview I promised next week.
And oh yeah! Reviews come back on Monday.
Kidz in the Hall
The In Crowd
Released: May 20, 2008
Recorded: Soundscape Studios in Chicago, IL and Boom Boom Poom Poom Studios and Baseline Studios in New York, NY
It only makes sense that Kidz in the Hall would name their second album The In Crowd. Since emerging as the centerpiece of legendary imprint Rawkus Records' relaunch campaign in the fall of 2006, rapper Jabari "Naledge" Evans and producer Michael "Double-O" Aguilar have promoted themselves as hip-hop's fresh new face, a major act that only needed an audience. (They left Rawkus for Duck Down Enterprises the following year.) In turn, the duo has risked backlash from critics and fans eager to deem them as superficial wannabes, just another Chicago group unable to illustrate its prime-time swagger with good hip-hop music.
Certainly, The In Crowd takes a close listen. Anchored by the viral smash "Drivin' Down the Block," a homage to Masta Ace's "Born to Roll," it's inspired by the hip-house, fast-rap and new jack of the early 90s. From the slumping Houston bass of "Drivin' Down the Block" to the effervescent hip-house of "Love Hangover," Double-O makes beats engaging enough to earn your respect as well as your appreciative head nod.
"Oftentimes, people get stuck in this idea of being underground," says Double-O. "We never were and we never wanted to be underground. We want people to hear our music. There's nothing 'hiding' about that. We want to make sure that we can be the biggest, most prolific artists that we can be."
However, it's not until the end, when Naledge steps to the mic with "Inner Me" and declares "Ironic/The product of two shrinks would ever need a shrink," when he reveals The In Crowd's underlying subtext: a pop culture striver with an identity crisis, and a cool kid masking his insecurities. Although Naledge doesn't show his hand enough – "Inner Me" and the title track, a tale of a tragically misguided scene queen, are the only songs that portray the ugly side of fame – it's only because Kidz in the Hall focus on making sunny hip-pop hits. The songs may be breezily infectious and unencumbered by heavy topics like world politics and inner-city blues, but the social politics are ever-present. They want to make you move; it's up to you to think.
"We show you the shiny part, we show you the part that glitters like gold, but we also show you the inside where it's not as together as you might think. We show you a bunch of people who aspire to reach this level of popularity, not realizing that it's not all it's cracked up to be in the first place," says Naledge.
1. "Black Out" feat. DJ GI Joe (2:38)
Double-O: The ideas had been in the making for a while. I had a conversation with Jay Electronica, and we were just talking about how they don't have those types of records anymore – fast-paced, fun hip-hop records. I wanted to do a real minimalistic but multiple-sample-chopped record, you know? One of my favorite movies is Juice, so that's where I pulled the inspiration from. Then Naledge got on there and did his thing.
Naledge: It sounds like Rakim, Big Daddy Kane and those types of MCs. So I tried to put my spin on it.
Double-O: I wanted to evoke the same production techniques that everybody did back in the day. When you read these old stories about how Q-Tip and everybody came together and put records together, or how everybody in the Bomb Squad came with their stack of 12-inches and put these records together, it always seemed way more fun than the [lack of] effort people put into sampling now. Nowadays, you find a loop, you put some drums on it with Fruity Loops, and you call it a record.
So I went to my pile of treats and took a little piece here, pitched it to beat match, pitched this melody to match, pitched these drums, and tried to make the process as fun as it used to be. It's one of those fun records to have on stage, too, because it's very high energy.
2. "Paper Trail" feat. Phonte (3:55)
Naledge: Double-O made the beat, and then I wrote the song. Phonte contributed the verse, and then we tailored it, because originally I had three verses. But we knew we wanted Phonte on the record…like, it was one of those things that came together perfectly. Once we gave him the idea of what the record was, he was able to murder it.
3. "Drivin' Down the Block (Low End Theory)" feat. Masta Ace (4:03)
Plug One: So Masta Ace isn't actually on "Drivin' down the Block," right? It's just a…
Double-O: Yes, he is…back up! The original was a sampled version, and then we got him to come back and lay his vocals down. We ran into him on the way to Prague last summer, and gave him an early version of the record.
Plug One: So the "drivin' down the block" chorus, it's actually him and not a sample?
Double-O: Yeah, that's him.
Plug One: Why did you decide to just use that hook and not have him do a full verse?
Naledge: The song was pretty much done. The idea came up as far as him being on the remix. But I don't know…it worked out the way it worked out.
Double-O: We would do it, but it would have to make sense in the way that the other remixes are. Like, if we were able to mess around and get Masta Ace and Q-Tip and Phife, then it would make sense to rock it like that. But we decided to stick with what we had that worked. Sometimes when you try to overdo stuff you ruin the original idea.
Plug One: Are you surprised at how successful that single has become on the Internet and on MTV?
Naledge: It was just one of those things where we knew it had the appeal to reach more than just a hip-hop head. It's so layered. A real hip-hop can appreciate the Masta Ace and Low End Theory reference. By the same token, the beat feels good so a younger person would like it because of that. Then the OutKast references, the Will Smith reference…there's a lot of references in that song, if you really listen to it. I had somebody come up to me at our album release party, and was like, "I didn't realize how much of a hip-hop head you were until I listened to that song, because there's so many references." I referenced Ray Cash in that song. But a lot of people don't pick up on those things.
Plug One: Have you had opportunities to sign with a major label?
Double-O: They've essentially been there from day one. Our first meeting ever, in terms of Kidz in the Hall, was with Joe 3H [Joe Weinberger], who is the famed A&R that brought 50 and Kanye to Capitol at the same time. [Capitol] didn't sign them. That was in 2002. One went on to have the biggest year of 2003, and the other went on to have the biggest year of 2004. So that was our first meeting.
But there was always something in us that was, like, we should not jump that gun, but build a movement first to get to a point where you're on, if not necessarily a level playing field, then you have an even trade-off if you sign. Oftentimes, if you sign too early, you get to a point where you're just a number, and they're going to wait around until you build your own buzz anyway. We might as well have the freedom to do it with the independent labels, and just learn and cut our teeth in this game.
Plug One: Are you still having those conversations?
Double-O: We probably will, but right now we're very happy with where we are.
4. "Lucifers Joyride" feat. Travis McCoy (3:24)
Naledge: While Trav is a member of a wildly popular group, he's a hip-hop kid in his own right. I think that anything that has a certain amount of melody to it and an uptempo club pace can get personified as pop. I was trying to do what was right on the track. But I understand what you were saying, because nobody wanted me to rap on it before I rapped on it.
Double-O: At the end of the day, Naledge is a songwriter. He's more than just a rapper or an MC. We try to make real records. We try to make actual albums. We're not going to limit ourselves to this false idea of where our limits are.
5. "Snob Hop" feat. Camp Lo (3:35)
Naledge: I think "Snob Hop" is the one record where I actually heard the feature on it before I heard myself on it. When I first heard that beat, I was like, this sounds like a Camp Lo record. That was the first thing I thought in my head. I'm such a big fan of [Camp Lo's] Uptown Saturday Night. I've always wanted to make that type of album.
I felt like they personified that blaxploitation era flow, and that's always been a fly aesthetic. It's, like, I'm so cool that you're not understanding what I'm saying. When you would listen to Ghosface, Camp Lo or even Raekwon, you would front like you knew what they were saying, but you really didn't know what they were saying. You just wanted to know. That's the point of "Snob Hop."
Sometimes, our group gets personified as snobs, or coffee shop or art gallery hip-hop. It was me taking a stance, and just flipping the words and throwing that title in their face.
6. "Mr. Alladatshit" feat. Donnis & Chip Tha Ripper (3:59)
Plug One: What sample did you use on "Mr. Alladatshit?"
Double-O: That's an important record in terms of what that ideal is – that's the new, fresh, young, fly squad of up-and-coming rappers. Dudes that really understand that ideal and aren't afraid to talk about it. A lot of times people talk about swagger, but that shit is not in them. It's just shit they talk about it. When you wake up in the morning, that shit should just be in you.
So we reached out to Donnis and another kid we met, Chip tha Ripper that were really the epitome of that.
Plug One: You didn't answer my question.
Double-O: What was the question?
Plug One: What sample did you use?
Double-O: Man, I'm not telling you that. Stop trying to get me in trouble.
Plug One: Who are Donnis and Chip tha Ripper?
Double-O: They're two brand new artists that we fuck with. Chip is signed to Jive Records, and Donnis is in the midst of solidifying his deal.
Donnis is an artist that works with one of our homeboys Million Dollar Mano, a DJ and producer in Chicago. We started hearing about him through that, and then he moved to New York, and we ran into him on the set of Estelle's video ("American Boy"). From that point, we built a rapport, and then got into doing records.
Chip tha Ripper is an artist out of the Dream Life camp that Lebron James started popping in Cleveland with Al Fatz. There's a whole scene in Cleveland: You have Ray Cash, Al Fatz, Chip tha Ripper's S.L.A.B. Entertainment. You have all of them out there really pushing it.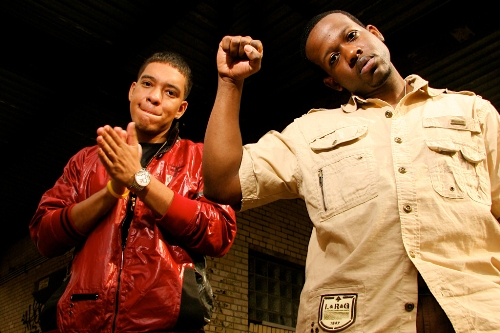 7. "Love Hangover" feat. Estelle (4:06)
Double-O: With the Estelle record, she only knew the concept. There wasn't actually a song written to it. She heard the beat, she started messing with the concept, and then we went back and forth. Naledge was over the phone, and myself and Estelle were in the studio. And then Naledge was able to complete it from there.
Plug One: "Love Hangover" sounds inspired by early 90s records by Lisa Stansfield and Soul II Soul, and even Chicago house.
Double-O: That's essentially what I grew up on. Soul II Soul, Third World, Phil Collins and Lisa Stansfield: That's what was playing at my house when I was growing up, because that's the music that my dad used to listen to. So that stuff is ingrained in anything I do. In terms of rhythms, I think from a Caribbean standpoint more than anything because that's the beat I grew up on for 20-odd years of my life.
At the same time, growing up, when I first started messing with DJ'ing in Jersey, house music was always the sub-genre. You had hip-hop, but Baltimore club music was there in the 90s and at parties in Jersey. So there was always this branch between hip-hop and R&B and the house music stuff.
Plug One: Is your family Caribbean?
Double-O: Yes, my family's from Belize.
8. "Let Your Hair Down" feat. Skyzoo & Lil Eddie (4:37)
Plug One: On "Let Your Hair Down," why did you switch from a first-person perspective on the first verse to a third-person perspective on the second verse?
Naledge: I didn't really switch perspectives so much as I was trying to get the he said/she said, back-and-forth conversation thing. It's almost like me talking about myself in the first-person, and then me talking about myself in the third person. It's an egocentric thing to do, but it fit in with what I was trying to do.
9. "Middle of the Map Pt. 1" feat. Fooch (2:28)
10. "Middle of the Map Pt. 2" feat. Black Milk & Guilty Simpson (2:33)
Plug One: Can you explain the "Middle of the Map" concept?
Double-O: If you notice, on The In Crowd there's a feature on every single song that incorporates the in crowd. But I not only wanted to include rap features and singing features, but features on the production tip.
Black Milk is one of the next dudes that's holding young Detroit really strong. He's prolific with his beats, his albums and his collaborations. I wanted to involve him in the project somehow. So basically I sent him a few samples. I gave him the idea that what I was going to do was flip whatever sample he picked. We'd do it in a certain BPM range. We'd do this entire Chicago-Detroit thing where he and Guilty Simpson would rap on one joint, and Naledge and Fooch would rap on the other joint. Then I would put it together through this part one and part two thing, stringing it together with the sample. That's how it initially came together. Then Naledge rapped on Black Milk's beat, and Black Milk and Guilty rapped on my joint.
Plug One: Who is Fooch?
Naledge: Fooch is my homeboy. Dude got me rapping in the first place. We've been rapping since the seventh grade, and it made sense to include him into the fold. We always said that whoever got on would bring the other on board. I wanted him on School is My Hustle, and it didn't work out. I'm glad I got him on The In Crowd, and this was the perfect record, with him being able to talk about Chicago and the way we came up.
11. "The In Crowd" feat. Tim William (4:04)
Plug One: It seems like ego, being cool, and questioning yourself are big themes on this album.
Naledge: It just shows the hypocrisy that we live in. That's how life is. Life is a contradiction in itself. A lot of people strive to become rich their whole lives, and then once they get rich they become depressed. A lot of people strive to be cool, and once they become cool they talk about how much they hate being popular. Famous people talk all the time about hating the paparazzi, signing autographs and being followed by people everywhere. But in reality, that's what they ask for in the first place.
Money is a drug. Fame is a drug. The [music] industry is a drug. We explore all of these throughout the album. We look at our own lives, because we weren't people born and bred to be in this industry. At least I wasn't. But I found my way into it.
Plug One: So you don't come from a musical family? I find that a lot of musicians – whether they're rappers, play in a band or whatever – have family members who were musicians, and that's how they learned about the industry.
Naledge: Nah. My parents are academics. That's where I was being pushed, and that was the route I was supposed to take. I finished school, and I did all the necessary things up to a certain point. But I still found myself with such a passion for hip-hop – not just music, but hip-hop.
I don't know if I necessarily had the desire to be a star. I just knew I wanted to rap, and I wanted to be an MC.
Double-O: For me, it's a little different. Both of my parents pushed education, but my dad was in a band. He played drums and guitar, and he DJ'ed for a little while. So music has been in my household from day one.
12. "The Pledge" feat. Sean Price & Buckshot (4:32)
Double-O: That's actually the record that got us over to Duck Down. Naledge dropped a verse on it … and we wanted to get Sean Price on it. So we reached out to [CEO] Dru Ha and everybody over at Duck Down. Once they heard some of the records [for The In Crowd] they were, like, "What are you guys doing with this album?" That's how the conversation started with Sean Price, and eventually led us to doing the deal with Duck Down.
Plug One: Who handles the background vocals on that song?
Double-O: Her name is Demis. She's a female artist – actually, a rapper and a singer. She used to be signed to Roc-A-Fella back when they had their R&B section. Now she's grinding and doing her independent thing in New York.
Plug One: What was your experience like with Rawkus for School is My Hustle?
Double-O: It sucked.
You know what? There were some positives to it, like us being able to put our album out. [We learned] some of the things that we now realize are crucial, like investing in overseas [markets], and making sure we had a good stamp in places like the UK. But overall, they just weren't prepared or ready to break new artists.
13. "Inner Me" (4:59)
Plug One: "Inner Me" is a pivotal song on the album. You guys have talked about the being cool, the sacrifices you make to be cool and the insecurities you mask. But that's the only song where you claim that yourself as opposed to using different characters to personify those conflicts.
Naledge: For most of the album, we showed our versatility, we took risks and took chances. But I made "Inner Me" with the most ease because I'm an introvert anyway.
Double-O: You need to tie "Inner Me" in with the entire album. There's a reason why the sequencing is the way that it is. There's a reason why "Black Out" begins it and "Inner Me" ends it. That's why it made sense to have that song to solidify the album, and also to start prefacing the Naledge solo album.