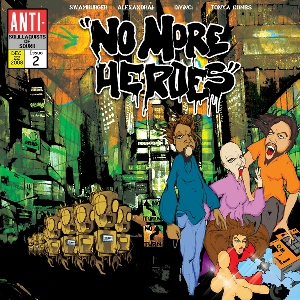 Orlando, Florida's Solillaquists of Sound have finished their sophomore album for Epitaph imprint Anti-. Set for release on August 4, No More Heroes features more of the community-raising hip hop that marked their 2006 bow, As If We Existed. However, the group may be best known for "Death Of The Muse," the benefit single it released last year for Maureen "Ma Dukes" Yancey, mother of the late James "J Dilla" Yancey.
More information is imminent:
From Hollywood to our nation's capitol, the concept of the hero is more pervasive than ever in 2009. But in a time when donning the cape is so en vogue, Florida's Solillaquists of Sound go the next step with their most personal work yet. The second in a trilogy of conceptually-linked albums, No More Heroes sheds the overtly cerebral approach that marked their debut As If We Existed in exchange for a more aggressive, in-your-face sound that is driven by the synth-heavy beats of MPC mastermind DiViNCi and the urgent vocals of Swamburger, Alexandrah, and Tonya Combs.
With a musical canvas fusing elements of hip hop, dubstep, prog-rock, afrobeat, folk music, and epic movie scores, the sound of No More Heroes is a blistering collage that never loses its identity, maintaining an underlying unified sound. The kid gloves are off; the record is primal, energetic, and as passionate as ever, a collection of songs representing a group at the apex of their collective virtuosity.
Here's the track listing:
1. "Marvel"
2. "Harriet Tubman Pt. 2"
3. "New Sheriff In Town"
4. "Gotham City Chase Scene"
5. "Look"
6. "Popcorn"
7. "The Curse"
8. "Dolla Dolla"
9. "The Roots of Kinte"
10. "Fittin' In"
11. "Death Of The Muse" (feat. J-Live & Chali 2na)
12. "4 People"
13. "Heroes"
14. "Solillaquy (The 4-Telling)"
15. "Bulletproof"
16. "No More Heroes (the illusion of silence)"