This post previews a new blog from yours truly that launches in a few weeks. It's all about my adventures in collecting stuff. It doesn't have a title yet.
Please note that this won't be a serious "diggers" site. It's really just an excuse to write about my crazy adventures collecting records, books and other random things. However, being who I am (music writer, journalist, misanthrope), I expect that I'll pepper in a few morsels of insight and usable information among the silly stories. Since many of you enjoy Plug One, I'm excited to show this new project to you first.
Have fun!
Rancho Cordova's house of junk
Several days ago, I saw a Craigslist.org ad that read:
We our liquidating our entire estate record collection. These records have piled up in the warehouse for 2 years from purchased estates! All Years and Genre's. $1 each. Priced to liquidate.
Can't beat that, right? So I drove out to the warehouse, which was near Rancho Cordova. If you've never visited Sacramento in the summer, be warned: some parts are relatively cool and lush, while others are a hot concrete wasteland. Unfortunately, this warehouse belonged in the latter category.
The man selling the records was a 50-ish white guy who operated two adjoining warehouse rooms in a storage park with his brother and business partner. The rooms were stuffed full of used junk, from old stereo equipment and televisions to clothes, furniture and toys. Essentially, he bought anything you could think of, including garage and yard sales, "estate" sales, flea markets and auctions, then turned around and resold it all. His goal was volume, or to buy things as cheaply as possible then sell them as quickly as possible. He wasn't a collector. But that was fine with me – it meant I could (hopefully) get some nice records for cheap.
When I arrived at the warehouse room, he pointed me to a series of large plastic storage bins, plastic crates and cardboard boxes, all stuffed with records. It looked like a big mess. As I set to digging through it all, I found that most of the records were completely damaged. Album covers were dog-mangled, smeared with dirt, torn and soiled by rain. Many of the vinyls didn't have a cover at all. Most were scratched so much the vinyl looked gray from the dirt that accumulated in the crevices. Others were cracked and broken.
Among the casualties were Nirvana's Nevermind (which runs up to $100 in mint), Paul Chambers' Bass on Top (a favorite from my teenage years, runs between $100 and $300 in mint) and sundry 70s soul classics from Barry White, Isaac Hayes and others.
Also, oddly, there were two boxes, each filled with copies of the Team's "Hyphy Juice" on green vinyl and Keak da Sneak's "Super Hyphie." These appeared to be runoff copies that got thrown out by a distributor, and somehow ended up in this godforsaken warehouse.
I briefly considered purchasing both boxes, but decided against it. I've since noticed that someone is trying to sell "Hyphy Juice" on Discogs for $25. West Coast street rap can be extremely lucrative, but it's a dangerous business unless you know what you're doing. There's way too many crappy and soundalike acts, as well as artists that, for whatever reason, simply aren't collectible. I don't know much about that scene. Besides, I'm a collector, not a dealer.
I guess if I had about $40 I could have bought both boxes (or maybe even less, as the 50-ish white guy gave deep discounts), but would I really want two boxes of "Super Hyphie" and "Hyphy Juice" sitting around my apartment? Definitely not, but who knows? Perhaps I'll be kicking myself over my shortsightedness years from now…
Anyway, I toiled for two hours, digging through mountains of vinyl for two hours while burning in 90-plus degrees afternoon heat, looking for something to justify the time I spent.
I gathered about 15 records. I already owned copies of five of them (two by Earth, Wind and Fire, Force MDs, Keith Sweat and the Sundays), and plan to resell them for, hopefully, two or more bucks. Hey, you squeeze profit where you can. I also copped Steely Dan's Pretzel Logic, but it was the MCA repress, not the ABC Records original, and the back cover was very bent. I shouldn't have bought it, but after all that sweaty digging I guess I was a bit dizzy!
The rest was used bin fodder highlighted by the Brooklyn, Bronx and Queens Band. It doesn't go for very much, but I don't come across it very often, and it has that early 80s synth-funk sound (see Dam-Funk) that I'm into at the moment.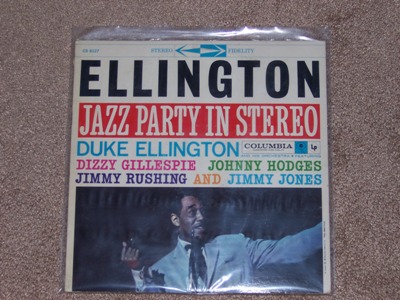 Perhaps the best find of the day was Duke Ellington's Jazz Party. This is a 1959 session featuring Ellington and His Orchestra, with guest spots from leading bop players such as Dizzy Gillespie and Johnny Hodges. The vinyl is very clean, but the vinyl jacket has noticeable tears on the top and bottom. It runs about $30 in mint condition, and this copy is probably worth about half of that. Not bad for a dollar.
I also picked up a copy of the Supremes' "I Hear a Symphony" for fun. The vinyl is a little scuffed, but no major scratches. Goldmine has it listed at $25, but I doubt if mint copies go for any higher than $5 nowadays. Most 45s aren't collectible anymore, and everyone's buying albums. But as someone who has always focused on albums – even during the 7-inch "deep funk" craze of the early 00s – I've found the 45 game to be a refreshing change of pace.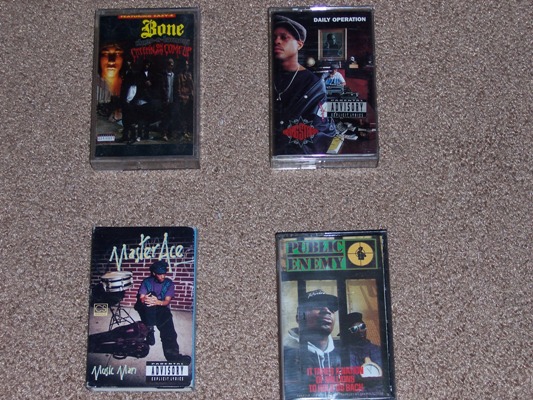 These four tapes were also fun: Public Enemy's It Takes a Nation of Millions to Hold Us Back, Bone Thugs-N-Harmony's Creepin On Ah Come Up, Master Ace's "Music Man" cassingle and Gang Starr's Daily Operation. Again, not much of a market unless they're rare cassette-only releases, like Too Short's early material.
Finally, I threw in this album jacket for Blowfly's On Tour. No vinyl, just the cover! I thought it was so ill that I bought it, too.
TOTAL: $15 for 15 albums, four cassette tapes, one 45 and one empty album jacket.