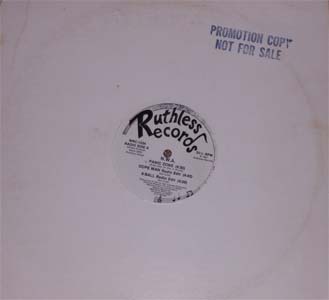 Last week, I stumbled upon one of the biggest vinyl finds ever.
In a September post (which previewed an "Untitled Collector's Blog" that has yet to appear), I wrote about a warehouse in Rancho Cordova that sold records for a dollar. Unfortunately, I spent hours scouring through water-damaged crap before pulling out a handful of goodies that hardly seemed worth the effort. Crate-digging tends to be like that more often than not.
Then, a few days before Christmas, I saw this Craigslist ad:
DJ Record Collection 3000+ Records being Liquidated

We have a huge DJ record collection up for sale. Was KSOL 107 radio stations collection. Tons of promos and quality records. Liquidating all of them at $1 each.
The accompanying address seemed familiar. When I drove out to the warehouse, I realized that, yep, it was the same place where I struck out before. But this time the quality of records was much, much better.
KSOL-FM was the top black radio station in the Bay Area for decades. It's famous for mentoring Sylvester "Sly Stone" Stewart in the 60s before he formed Sly & the Family Stone. In the 80s, it featured top DJs like Cameron Paul, who created highly influential megamixes such as the "Prince Megamedley." A generation of fans — many of whom later fomented the turntablism movement — grew up listening to KSOL. Unfortunately, the station was sold to new ownership in 1993; the format changed to Latin freestyle/pop, with the call letters KYLD-FM, or "WILD 107." (I'm summarizing here, as KSOL switched call letters and owners a few times before finally switching its soul format.)
The "50-ish white guy" from my last post remembered me. During the three hours I spent combing through the stacks, he explained that he runs the warehouse with his son. The records came from a storage locker rented by a former KSOL DJ; apparently the DJ fell behind on his payments, so the storage facility auctioned off the locker's contents. (Usually buyers will bid on an padlocked locker in hopes that it contains valuable junk; the successful bidder gets everything stored in it.)
As I began rifling through the plastic bins and mail crates, I immediately began pulling out dozens of records at a time. I couldn't believe my luck! The cache included old-school hip hop and R&B 12-inches and albums — the Bay Area sound of the 80s and 90s. There was also a lot of Miami electro and booty bass, some Latin freestyle and a little bit of club house (which was popular on black radio at the time). Although most of the vinyl covers were bent and creased, many of the vinyls were incredibly clean, and looked as if they'd never been played.
As I sifted through the crates, I awkwardly kneeled on the concrete floor, provoking amusement and concern from the warehouse owner. He offered me a chair to sit on, and when that didn't work, gave me a blanket so I wouldn't hurt my knees. And as I kept kept pulling out records, he set up a card table, and brought out some boxes to store them.
As I filled one box, then another, and another, I questioned whether I should make such an expensive purchase, despite all the records I'd get in return. But I realized this find was extraordinary. When you're a collector and find something like this, you feel compelled to spend the money (if you have it, of course), because you don't know if you'll ever find such a good collection again.
After around three hours of digging, I finished with about 300 records. Now I needed to sort through them all, check all the vinyl for scratches, and figure out which ones to buy. Luckily, the warehouse owner quickly made an offer of $250. Greedily, and thinking that I only really wanted about 200 of the records, I negotiated him down to $200.
When I got home and sorted through them properly, I concurred that 200 of them were up to snuff; the other 100 seemed to have a lot of surface scratches. Still, only 200 bucks!
The first jewel was N.W.A.'s 12-inch debut, "8 Ball/Dope Man." This isn't the retail release with a jheri-curled N.W.A. and the Posse on the cover; but the radio promotion copy with the old-school Ruthless logo. The retail version runs between $30-$40; so I would estimate it at around $60-$80 in mint condition. My copy has a few surface scratches on the "Radio Side," not surprising since it's a radio promo, so it may go for somewhere around $50, more or less. Regardless, it's an incredible historic document.
Second, I found a white label, blue vinyl promo of Dynamix II's "Feel The Bass / Techno Bass." I didn't know what it was at first, but I saw the Chaos stamp on it and figured it was a Chaos Recordings white label (a Columbia-owned hip hop imprint in the early 90s). Turns out it's fucking Dynamix II, and only 200 copies were pressed, according to Discogs.com.
Dynamix II was one of the Miami-based groups that sustained electro between its early 80s "Planet Rock" heyday and the mid-90s European electro renaissance (I-F, Anthony Rother, et cetera). Based on its rarity, this might go anywhere between $50 and $100. That's a very rough estimate because I don't know much about the electro scene. It's one of those items that could sell for a lot of money with the right buyer.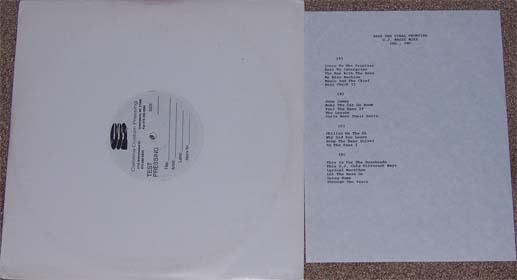 Unlike "Feel the Bass," I recognized this test pressing of DJ Magic Mike's Bass: The Final Frontier from the publicity insert. Magic Mike was a 90s anomaly, a Florida producer who appeared to booty bass and tuner car fanatics. (Import car aficionados used his tracks, which are rife with bass tones, to test their woofers.) He sold hundreds of thousands of records, and was featured on the cover of The Source. Again, I'm not sure how much this one is worth. I've already gotten an offer for it, though.
The two most heartbreaking finds were Pharcyde's BizarreRideIIThePharcyde and Pete Rock & C.L. Smooth's Mecca & the Soul Brother. The Pharcyde's classic debut was issued on colored vinyl, and only in limited quantities. I've been looking for it for years, and never expected to find it priced less than $50, much less a $1. So why is it "heartbreaking"? The vinyl cover is in bad condition, with a few scrapes. It rates "VG" at best. However, the vinyl is very clean, and it includes the original insert. If I had only found it in VG++ or near mint condition…
The same goes for Mecca & The Soul Brother — the source for the all-time classic "T.R.O.Y. (They Reminisce Over You)." Even better, this is the rare promo edition, which will set you back around $100 or more in near mint condition. Although the vinyl itself is clean, the album cover is wrecked, and there's a large sliver on the back that's thick enough to bend (but not tear).
I found quite a few promo-only albums. In the 90s, many record labels stopped pressing albums on vinyl as they pushed the CD format onto consumers. They continued to press promo versions for DJs, however, and some of them became highly collectible. I found two copies of Boogie Down Productions' final album, Sex & Violence; Chi-Ali's The Fabulous Chi-Ali, notable for the Beatnuts' production debut; Marley Marl's In Control Volume II; and Biz Markie's I Need A Haircut.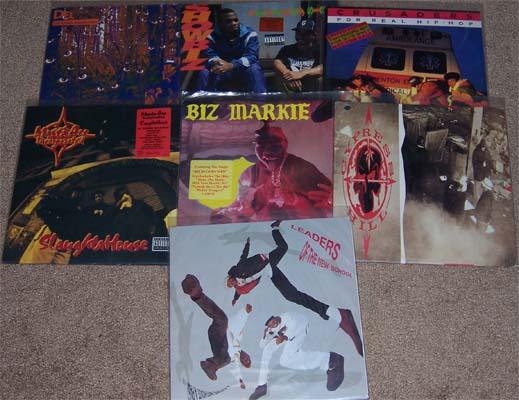 I also found some classic hip hop albums, including Biz Markie's Goin' Off, Leaders of the New School's Future without a Past, Del tha Funkee Homosapien's I Wish My Brother George Was Here, Crusaders for Real Hip-Hop's (the late Tony D.'s group) ultra-rare Deja-Vu, It's 1982, and Showbiz & A.G.'s Runaway Slave, Cypress Hill's debut (which is a little wrecked), and Masta Ace Incorporated's Slaughterhouse. Most of these are in VG+ condition, but not near-mint, with clean vinyl and covers marked by hairline creases, except for the Cypress Hill album cover, which is in pretty bad shape.
At this point any casual visitor to Amoeba Records or Ebay.com will realize that I bought several hundred dollars' worth of records for only $200. But wait! There's more…
I also found some Yay Area mobb music classics like Totally Insane's Direct from the Backstreet, E-40's In a Major Way, 415's post-Richie Rich album Nu Niggaz On The Blokk, and Digital Underground's This Is An EP Release. Early 90s Bay Area gangster rap is highly collectible at the moment.
As for 12-inch singles, I got plenty of De La Soul, Big Daddy Kane (primarily from his "Smooth Operator" period) and Public Enemy. Keep in mind that KSOL was a mainstream station, and the East Coast's early 90s boom-bap renaissance didn't really happen on the West Coast. But I found a few hardcore gems, including Nasty Nas's debut "Halftime" and a sealed (!) copy of Gang Starr's "Ex Girl to Next Girl."
The best stuff, though, was the  West Coast hip hop records. I found A.T.C.'s "This Beat Is Def" (featuring early production from Paris); two copies of King Tech & M.C. Sway's classic Flynamic Force EP (before "The Wake Up Show" and Sway's ascent as a MTV host-personality); a sealed copy of Sway & Tech's "Follow 4 Now" (the All City Records version, not the Giant Records re-release); E-A-Ski's "Ski $ CMT" 12-inch; and Totally Insane's "No More Mr. Nice Guy." Hell, I even found a promo version of Dr. Dre's "Let Me Ride."
Funny enough, as you can see in the photo, both copies of the Flynamic Force EP have writing on the cover: the group thanks KSOL DJs Tony Valera and Super Snake, respectively, "for their support."
Okay, enough bragging. Every veteran crate digger has a few "steal of the century" stories like this.
I'm fortunate this happened during the holidays. Everyone was so busy buying Christmas presents that no one responded to the Craigslist ad, so I had a virtual exclusive on the KSOL collection. (In fact, I drove back to Rancho Cordova the next day and bought 16 more for $10.) Any other time of the year, and with an ad that mentioned "KSOL," I would have either jostled with other diggers for the best joints; or faced a picked-over crop of old, weather-damaged cutout fare.
Luckily, I don't celebrate Christmas.
TOTAL: $200 for 304 records, in addition to a few vinyl jackets with doubles stuffed in them, and a few scratched-up records inadvertently tossed into the pile. $10 for an additional 16 records.