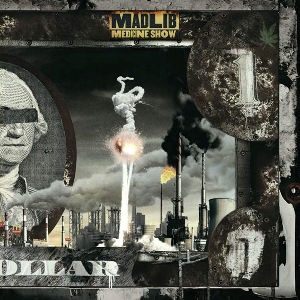 This essay on Madlib's first installment in his Medicine Music Show series was published in the January 27 issue of the San Francisco Bay Guardian.
Welcome to violence
Madlib, now in his hardcore phase, hands out sonic pamphlets like a prophet of doom
Late last year, Stones Throw Records announced that it would release a full-length album of tunes by its veritable resident producer, Madlib, in 2010 … every month. Dubbed Madlib Medicine Show, the 12-part series sounds like a rap nerd fantasy.
Ever since his critically lionized Quasimoto adventure, 2000's The Unseen, when he adopted a helium voice and crafted adult cartoons straight out of Fritz the Cat and Le Planete Sauvage, the L.A. musician has defined an idiom of crackling sampled loops, slightly buggered raps, and thick clouds of weed smoke. Over 15 years deep into a career that kicked off with a cameo on the Alkaholiks 1993 debut 21 and Over, his enigmatic vision perseveres, even as the idealistic underground scene he once occupied – remember back in the 90s when his old group the Lootpack chastised wanna-be gangsta rappers on "The Antidote"? – has turned cynical, becoming obsessed with the same guns-drugs-porn-money quadrangle it once criticized the "mainstream" for.
Meanwhile, onetime critics who complained that Madlib produces too many records have been hushed by a rapacious Internet age, where weekly emissions of tracks and mixtapes are de rigueur. For example, L.A. indie rapper Blu, a promising inheritor of the West Coast hip hop tradition, has been on "hiatus" for well over a year as he crafts his major-label debut, yet still manages to upload several albums worth of free online "demos." Madlib's dozens of aliases (Yesterday's New Quintet, DJ Rels, take your pick) and chaotic forays into post-bop, free jazz, soul-jazz broken beat, Brazilian Tropicalia and deep funk seem quaint by comparison.
Smartly, Madlib doesn't give his music away for free. The Madlib Medicine Show may resemble those Internet "loosies" and "street albums" you downloaded last night, but he makes you pay for the privilege of hearing his work. (Or at least he tries to; no one is immune to the web's torrential bootlegging.)
The first installment, No. 1: Before the Verdict, is particularly pointed in its message of commerce as a soul-destroying, mind-blowing shit-stem. The cover depicts a charred one-dollar bill (with a weed leaf embedded in a corner), an industrial plant spewing toxic waste, and the World Trade Center being bombed by an airplane. The interior features photos of strangely voodoo-fied Africans — one has a hand protruding from her mouth — and the cryptic message: "There were only three witnesses. Two are dead. The other isn't talking."
Before the Verdict's 17 tracks consist of remixes of Guilty Simpson's 2007 album Ode to the Ghetto, and a few previews of a forthcoming collaboration tentatively titled OJ Simpson. (Again, just like those damned Internet "street albums.") Guilty is a decent if ornery thug rapper, but he's clearly no match for Madlib's symphony of 70s soul "rapps," funky howls, vinyl hiss, DJ cuts, burps and farts, pungent jokes culled from 60s comedy albums (Redd Foxx and Millie Jackson!) and police scanner snippets. The Detroit rapper's litanies about "Gettin' Bitches" and "Robbery" are vocal anchors drowned by the Madlib Invazion's furiously funky creativity.
Remember when that Quasimoto album intoned at the very beginning, "Welcome to violence"? These days, Madlib doesn't just promise it. In rave terms, he has entered his hardcore phase. No longer positive and consciousness-expanding, the blessed weed smoke is fuel for a crank personality. The transformation is compelling, hilarious and frightening. As the rap world's version of "reality" narrows into a handful of masculine fantasies, Madlib has become the era's pamphleteer, printing out screaming headlines like a crazed prophet of doom.
Not all of his current work sounds like a ghetto dystopia. On his 2008 homage to his late friend James "J Dilla" Yancey, Beat Konducta Vol. 5-6: A Tribute To…, Madlib employed the same collagist techniques with melancholy, loving care.
And then there's the other album Madlib produced this month, Strong Arm Steady's In Search of Stoney Jackson. The L.A. group fares somewhat better than Guilty Simpson. Madlib lets their hard-rock rhymes breathe a little, before snuffing them with musical ether.