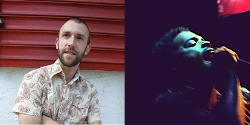 It didn't make sense. Why would Busdriver, one of the most acclaimed rappers of recent years, opt to do an indie-rock tour with Deerhoof ? And true, RJD2 set out to make an indie-rock album with the forthcoming The Third Hand. But couldn't he have put together a bill that would entice his conservative ol' rap fans to try some of his new material?
Well, fear not. RJD2 and Busdriver are not only joining forces, but venturing out to cities that weren't initially scheduled. Busdriver will still open on Deerhoof's Friend Opportunity tour, and then he'll join RJD2. After a break for SXSW (Busdriver isn't scheduled to be there, but that may change), the two musicians will soldier on together until April 23.
For hip-hop fans, the joint tour will allow them to sample unexpected sounds from two backpacker favorites. RJD2 applies the same funky soul aesthetic found on Deadringer to winsome love songs; however, his singing voice may take some getting used to. Perhaps taking a cue from Spank Rock, Busdriver's new RoadKillOvercoat contains his fast-raps over wild, unpredictable beats.
Here are North American dates for both performers, together and separately. Additional performances may be added.
RJD2 and Busdriver, with Happy Chichester opening:
3/09: Wexner Center, Columbus, OH
3/10: The Dame, Lexington, KY
3/12: Revolution Music Room, Little Rock, AR
3/13: Bricktown Ballroom, Oklahoma City, OK
3/14: Haileys, Denton, TX
3/17: Warehouse Live, Houston, TX
3/19: House of Blues, New Orleans, LA
3/20: Variety Playhouse, Atlanta, GA
3/21: Cat's Cradle, Carrboro, NC
3/22: Satellite Ballroom, Charlottesville, VA
3/23: 9:30 Club, Washington, DC
3/24: Sonar, Baltimore, MD
4/11: Starlight Ballroom, Philadelphia, PA
4/12: The Crazy Donkey, Farmingdale, NY
4/13: Webster Hall, New York, NY
4/14: Middle East Downstairs, Cambridge, MA
4/15: Pearl Street Nightclub, Northampton, MA
4/16: La Tulipe, Montreal, QC
4/17: Phoenix Concert Theatre, Toronto, ON
4/18: Magic Stick, Detroit, MI
4/19: Grog Shop, Cleveland Heights, OH
4/21: First Avenue, Minneapolis, MN
4/22: The Picador (formerly Gabes Oasis), Iowa City, IA
4/23: Birdys, Indianapolis, IN
3/09-3/13, 3/17-3/24: w/Antimc
RJD2 solo, with Happy Chichester opening:
3/11: Exit In, Nashville, TN
3/16: Emo's, Austin, TX
4/20: Metro, Chicago, IL
5/09: Fox Theater, Boulder, CO
5/10: Bluebird Theatre, Denver, CO
5/11: Abbey Theatre, Durango, CO
5/12: The Clubhouse, Tempe, AZ
5/13: Belly Up Tavern, Solana Beach, CA
5/14: Henry Fonda Theatre, Los Angeles, CA
5/15: Mezannine, San Francisco, CA
5/17: Wonder Ballroom, Portland, OR
5/18: Neumo's, Seattle, WA
5/19: The Nightlight Lounge, Bellingham, WA
3/16: SXSW Pitchfork/Windish Agency party w/Girl Talk, Menomena, the Ponys, the Pipettes, Do Make Say Think, Deerhunter, Simian Mobile Disco, Fujiya & Miyagi, Beach House, Marnie Stern, Crystal Castles
5/09-5/19: w/Pigeon John
and Busdriver solo…sort of:
1/30: Great American Music Hall, San Francisco, CA
1/31: Amoeba Berkeley, Berkeley, CA
2/01: Amoeba Hollywood, Los Angeles, CA
2/07: Airliner, Los Angeles, CA
2/09: Poleng Lounge, San Francisco, CA
2/16: Jack Rabbits, Jacksonville, FL
2/17: The District, Miami, FL
2/18: Crowbar, Tampa, FL
2/19: The Social, Orlando, FL
2/20: Commom Grounds, Gainesville, FL
2/21: 40 Watt Club, Athens, GA
2/22: Mercy Lounge, Nashville, TN
2/23: The Warehouse, Winston-Salem, NC
2/24: Mcganns, Boston, MA
3/02: The Metaphor Cafe, San Diego, CA
4/27: Coachella, Indio, CA
1/30, 2/16-2/23: w/Deerhoof, Harlem Shakes, Caural
1/30: w/Blackblack
2/07, 2/09: w/Daedelus, DJ Frane, Daddy Kev
www.rjd2site.com
www.myspace.com/rjd2
www.busdriversite.com
www.myspace.com/busdriver