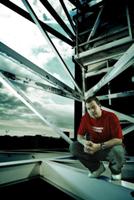 By now, it's well established that Z-Trip is the modern progenitor of the mashup, thanks to his groundbreaking 2001 mix CD with DJ P, Uneasy Listening. But you'd be surprised how few of the Music for Robots crowd that jock Diplo, Danger Mouse, Girl Talk, Donna Summer, et al give him props.
Oh well. Z-Trip's got plenty of fans anyway, especially on the West Coast. He's got a whopping 400,000 friends on MySpace — top that, Greg Gillis! And he's got a new project, too. It's his first since 2005's Shifting Gears, and it's for a video game, the forthcoming All-Pro Football 2K8. Z-Trip's All Pro features guest shots from Chali 2na, Rakim, Aceyalone, Gift of Gab, Slug, dead prez and many others. Highlights include a revisit of Rakim's "Let the Rhythm Hit 'Em" and a remix of Rush's "Tom Sawyer," a prime cut for turntablists back in the day.
Z-Trip's All Pro comes out July 31 on Decon Records. He's also heading on the road to promote the CD: tour dates and track listing are below.
1. "All Pro Intro"
2. "Something Different" (feat. Chali 2na and Keno 1)
3. "Sudden Death" (feat. DJ Faust)
4. "Let the Rhythm Hit 'Em 2007" (feat. Rakim & Chevelle)
5. "Doing It Like This" (feat. Clutch)
6. "Automatic At It" (feat. Aceyalone)
7. "Go Hard" (feat. Dub Trio and Gift of Gab)
8. "On My Side" (feat. Lateef & Slug)
9. "I Don't Need This Trouble" (feat. Natural Self)
10. "Sure Shot" (feat. Pep Love & Casual)
11. "Rock, Shock, Break" (feat. Backyard Bangers)
12. "Locked and Loaded" (feat. Deftones & dead prez)
13. "Tom Sawyer (Z-Trip remix)" (feat. Rush)
And now, the tour dates:
7/23: Harlow's, Sacramento, CA
7/24: The Independent, San Francisco, CA
7/25: Hawthorne Theatre, Portland, OR
7/26: Last Supper Club, Seattle, WA
7/28: Suede, Park City, UT
7/29: Fox Theatre, Boulder, CO
7/31: Logan Square Auditorium, Chicago, IL
8/01: Blind Pig, Ann Arbor, MI
8/02: Middle East, Cambridge, MA
8/03: Theatre of Living Arts, Philadelphia, PA
8/04: Sonar, Baltimore, MD
8/05: Highline Ballroom, New York, NY
8/08: Higher Ground, Burlington, VT
8/09: Agora, Cleveland, OH
8/12: Salmo River Ranch, Salmo, BC
8/15: House of Blues, Los Angeles, CA
8/16: Rialto Theatre, Tucson, AZ
8/18: The Parish, Austin, TX
8/19: Granada Theatre, Dallas, TX
8/21: Sunshine Theatre, Albuquerque, NM
8/22: Brickhouse, Phoenix, AZ
8/23: The Grove, Anaheim, CA
8/25: Gaslamp District, San Diego, CA
8/12: Shambhala Music Festival
8/25: Southern Comfort Music Experience
www.djztrip.com
www.myspace.com/djztrip