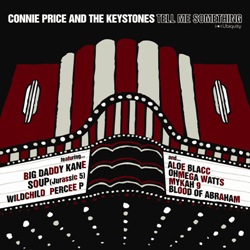 All year long, deep funk bands have been sharing the spotlight, from the Dap Kings' work on Amy Winehouse's Fade to Black to the Scion Live Metro series. Connie Price & the Keystones, an L.A. crew led by multi-instrumentalist/producer Dan Ubick and Todd Simon, has been a consistent presence on the latter project.
Although the latest Scion Live Metro tour — a brief, four-date jam with Connie Price & the Keystones and Brand Nubian — is nearly over, fans in Minneapolis can see the show tomorrow night (Thurs., Oct. 25) at the Varsity Theater. The rest of the world has CPK's second album, Tell Me Something, to look forward to. Set for release on January 22, 2008 via Ubiquity, Tell Me Something reunites the troupe with several other Scion Live Metro veterans, including Big Daddy Kane and Percee P. The album is split into two discs: a vocal version with a slew of rappers, and an instrumental version for all the DJs and funk lovers.
"I approached this project as a Hip-Hop record, it was more about sounds recorded rather than full performances from the musicians," says Ubick in a press release. "We have thrown all our influences into the mix, not just funk. We love funky music but to us that could mean Jorge Ben, Can, Dennis Coffey, or the Upsetters. I see us more as Hip-Hop influenced cinematic soul music…Also, the MC's and vocalists just make it all that much more dimensional and interesting."
The track listing for Tell Me Something is below.
CD1:
1. "Across the Board" (feat. Big Daddy Kane)
2. "Put Your Weight on It" (feat. Soup)
3. "High Life" (feat. Mykah 9)
4. "Tell Me Something" (feat. Aloe Blacc)
5. "Hoagies Revenge"
6. "Pirates of the Mediterranean" (feat. Blood of Abraham)
7. "Master at Work" (feat. Ohmega Watts)
8. "Thundersounds" (feat. Percee P)
9. "Catatonia/Across the Board Again" (feat. Percee P & Wildchild)
CD2 (Instrumentals):
1. "Across the Board"
2. "Put Your Weight on It"
3. "High Life"
4. "Tell Me Something"
5. "Hoagies Revenge"
6. "Pirates of the Mediterranean"
7. "Master at Work"
8. "Thundersounds
9. "Catatonia/Across the Board Again"
www.myspace.com/conniepricethekeystones