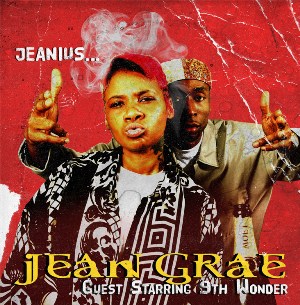 It looks like the talented Jean Grae finally has a release date for Jeanius, her long-delayed album with producer 9th Wonder. It's scheduled to hit stores on June 15. (May 28 update: The digital version was released to iTunes on May 27; the physical CD comes out July 8.)
Jeanius has a tortured history. It originally appeared on peer-to-peer networks such as Limewire way back in 2004; according to who you talk to (and when you talked to them), it was leaked by the artists themselves or someone in their camp. Everyone who heard it said it was amazing, so why didn't it officially come out? Fast forward to 2005, when Talib Kweli's manager Corey Smyth landed a distribution deal with Warner Bros. for the duo's new venture, Blacksmith Records. One of Blacksmith's first signees was Jean Grae. And it's been a waiting game for Jeanius ever since.
Last month, Jean Grae posted an item on her MySpace page titled "Thank You For Letting Me Be Myself." The post was widely misinterpreted as a retirement announcement:
Everyone who has been on this ride with me since the beginning and continues to be a supporter of music that makes you feel something true and vulnerable and honest by being just that.

It's been a wonderful and awful journey all at the same time. Mostly leaning towards the wonderful part..lol.

Thank you for letting me share what I could with you and sharing yourselves back, as you have really been the reason that I kept on.

It's always nice to know that you could be the voice of someone who didn't have one, or know just how to say it.
No comment or letter or statement of appreciation has ever gone unnoticed.
I love to write, I love to be able to create imagery and a world out of just words.

I will always love what I consider to be true hip hop music… from the bottom of my soul.

I hope you will continue to distinguish those who are contributors to the evolution of hip hop and other black music as both an auditory stimulation and a culture, taking care that they are put in a position to do so.

Thank you listeners, whom I consider my friends and family….

Enjoy…. see y'all around..

It's been amazing.. thank you again.
Days later, Corey Smyth explained Grae's frustration when he told Allhiphop.com, "She's real emotional when it comes to this music thing. She upset with the state of music. As talented as Jean is, [she is] real disillusioned with music."
Oddly, Jeanius isn't coming out via Warner Bros. Instead, it has been demoted to Alternative Distribution Alliance, Warner's distribution line for indie companies. It's similar to Consequence's situation when his Don't Quit Your Day Job! came out through Sony's RED Distribution instead of Sony itself. However, unlike Consequence's wildly uneven solo debut, Jeanius should be a great album. If the soon-to-be-released version is as good as the leaked edition from four years back, then Grae has finally made the classic her fans have been waiting for.
The track listing for Jeanius is below.
1. "iNTRO"
2. "2-32's"
3. "Don't Rush Me"
4. "My Story"
5. "The Time is Now"
6. "Billy Killer"
7. "Think About It"
8. "#8"
9. "American Pimp"
10. "This World"
11. "Love Thirst"
12. "Desparada"
13. "Smashmouth"