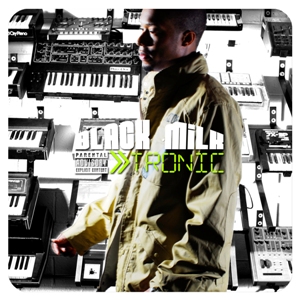 Black Milk's third solo album Tronic drops October 28 via Fat Beats Records. The music is bananas. All the haters who griped that dude was way overhyped will be silenced with this record.
Here's an excerpt from the label bio:
Produced entirely by Black Milk and featuring only three guest verses on the entire album (from Pharoahe Monch, Royce Da 5'9″, and Sean Price), TRONIC shows Black Milk flexing his solo production and emcee skills through tracks that are more expressive and daring than his previous works. The album is a departure from the soul-sample driven sounds of 2007's Popular Demand, as Black employs more live instrumentation, embraces the use of both vintage and modern synthesizers, and explores more orchestral song structure. Without abandoning his trademark Detroit hip-hop sound, he shows growth as an artist while clearly attempting to raise the bar as a pioneer of future hip-hop music. The album also features a short list of diverse players and vocalists including Dwele, rising YouTube star and new Universal Motown signee Colin Munroe, and the legendary DJ Premier who each add their signature creative nuances and textures to Black Milk's sound.
To whet appetites for Tronic, Black Milk issued a new mixtape earlier this month called Music from the Color Purple. Here's a link to the download as well as the track list.
1. "Long Story Short" (feat. Dwele)
2. "Bounce"
3. "Give The Drummer Sum"
4. "Without U" (feat. Colin Munroe)
5. "Hold It Down"
6. "Losing Out" (feat. Royce da 5'9)
7. "Hell Yeah" (feat. Fat Ray)
8. "Overdose"
9. "Reppin For U" (feat. AB)
10. "The Matrix" (featt. Pharoahe Monch, Sean Price & DJ Premier)
11. "Try"
12. "Tronic Summer"
13. "Bond 4 Life" (feat. Melanie Rutherford)
14. "Elec (Outro)"
Download: Music from the Color Purple
Download: "Give the Drummer Sum"