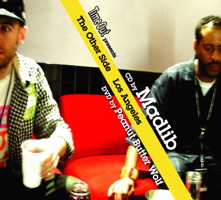 As if I don't write enough about Stones Throw, its affiliated artists and sundry products, here's another news bit. Madlib and Peanut Butter Wolf, two of the masterminds (along with Egon) behind the label, will collaborate on a CD/DVD for Time Out magazine and Deaf, Dumb and Blind Recordings' "The Other Side" series. Their installment, The Other Side: Los Angeles, will join excellent contributions from Fischerspooner, Damian Lazarus, Blackstrobe, and Ellen Allien (hers is due in April).
Madlib will compile the mix CD. Peanut Butter Wolf will make the DVD, which will document Stones Throw's history through an interview and videos. The Other Side: Los Angeles is due May 8.
The track listing for Madlib's mix CD is below.
1. The Lightmen Plus One, "Energy Control Center"
2. Cybotron, "Clear"
3. Dabrye feat. Jay Dee & Phat Kat, "Game Over"
4. Steve Grossman, "Inmate Man"
5. Prince Jazzbo, "Blood Dunza"
6. Sun Ra Arkestra, "Nuclear War"
7. Quasimoto, "Greenery"
8. Outlaw Blues Band, "Deep Gully"
9. Madlib, "Infinity"
10. Leroy "Horsemouth" Wallace, "Herb Vendor"
11. Rhythm Machine, "Freakish Love"
12. Mark Murphy, "Sly"
13. Harris & Orr, "Spread Love"
14. MED feat. Poke, "What It Do"
15. Beat Konducta, "Smog Theme"
16. Jaylib, "Survival Test"
17. Freestyle Fellowship, "Park Bench People"
www.myspace.com/madlib
www.myspace.com/pbwolf