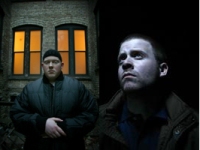 In the past two months, Brother Ali and El-P stormed the Billboard album chart, scoring top 100 debuts in their initial weeks.
El-P's I'll Sleep When You're Dead landed first week sales of 11,000 upon its March 20 release, good for a number 78 showing. Brother Ali's The Undisputed Truth also did well, moving 10,781 copies and hitting number 69 upon its April 10 release. Brother Ali's success is even more surprising considering it got a fraction of the press attention afforded El-P's opus. But hey, you can never discount those Rhymesayers fans.
"UH OH… THIS WASNT SUPPOSED TO HAPPEN," wrote El-P on his MySpace blog. "ISWYD has entered the BILLBOARD top one hundred at number 77. of all albums of all genres. something is happening out there."
These breakthroughs are tempered by the fact that both releases tumbled out of the top 100 by their second week on the market. And, of course, in a market greatly weakened by file-sharing, landing in the top 100 isn't as difficult as it once was. Nowadays, indie artists regularly make the cut because major label artists don't move the units they used to.
But hey, you can't knock success. Congratulations to both. Catch them on tour if you can.
Plug One news: El-P launches world tour
Plug One news: Brother Ali presents the Undisputed Truth tour
www.myspace.com/elproducto
www.myspace.com/brotherali
Photo of Brother Ali by Skye Rossi.
Photo of El-P by Timothy Saccenti.