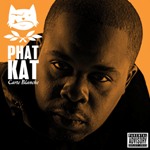 Phat Kat
Carte Blanche
Look Records

Rating:





Phat Kat is a raw spitter. He attacks every track with gusto, lacing beats with verbiage meant to humiliate and fascinate his quarry. When he hits his mark, which is often, the results can be exciting, the apotheosis of hardcore street-hop. But he doesn't do much beyond that, like a B-baller who can dunk and drive on your ass with impunity but can't hit a fade-away jump shot or defend the court.
Luckily his second album, Carte Blanche, features solid production from a handful of Detroit players. Phat Kat's association with the late Jay Dee/J Dilla goes back decades — the two formed a group, First Down that was briefly signed to Payday Records in the mid 90s. While J Dilla, one of the better producers in hip-hop history, has long eclipsed his onetime partner, Phat Kat brings out qualities in his beats that others can't. This is proven from the gate with "Nasty Ain't It," when Phat Kat rocks hard over a J Dilla joint that seems to vibrate with menacing funk. Carte Blanche ends with "Don't Nobody Care About Us," an older track from the late 90s that, through its mix of melancholy and purpose, is one of J Dilla's most underrated numbers.
The lead single, "Cold Steel," is another J Dilla production that Phat Kat rips with gusto. He offers plenty of memorable lyrics; on "Get It Started" he raps, "I'm just getting started/Nope, I ain't finished yet/You niggas garbage like spam on the Internet/I've been a vet, been in the game, gettin' respect/Cashing checks overseas, collecting that net/While you just getting your membership/My rhymes never stink/Rhymes I spit, you know they always stay legitimate/Don't speak on my life too much, just give you a little bit/Swiss and American cheese on eggs Benedict."
Phat Kat's single-minded focus ensures that Carte Blanche rises and falls on the quality of the beats. The album is top loaded, with the best cuts first — "Cold Steel," "Get It Started," "Nasty Ain't It" — but it falters during its second half. Some of the weaker tracks include Black Milk's "Cash 'Em Out" and J Dilla's "Game Time." But the former makes up for it with "Hard Enuff," a crazy cut on which he double-tracks Phat Kat's voice to devastating effect.
No matter how good or bad the beat, Phat Kat rides roughshod during the whole hour, rarely giving anything but pure intensity. Even the requisite song for the ladies, "Lovely," comes off angry and brittle, a thug love piece with more hardcore sex than cuddling or romance. The only track with any real pathos is "True Story Pt. 2," a track that's part dedication to J Dilla, part memories about the Detroit rap scene.
In Phat Kat's milieu, subtlety, emotional complexity, and topical variety are a plus. You don't expect them in Carte Blanche, and he doesn't give them to you. Despite the incessant braggadocio, however, at least he knows where he stands in the hip-hop universe: "Fuck being a mainstream clown, I'm eating good in the underground."