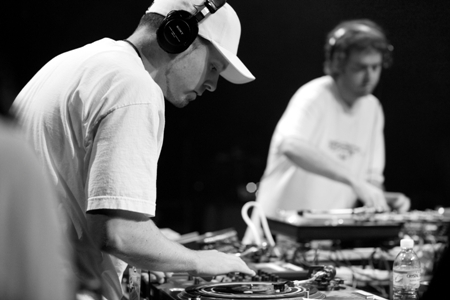 DJ Shadow and Cut Chemist are currently in the midst of a third — and final — leg for The Hard Sell. Yes, after over a year and dozens of cities in several countries, the Hard Sell tour seems to be coming to a close.
"Incorporating eight turntables, two guitar loop pedals, & only using original 45rpm seven-inch singles, 'The Hard Sell' features tricks and complexity rarely attempted by a DJ duo," reads a press release. "As with the two previous sets, the pair eschew their own material in favor of an amalgam of music from all eras and styles, providing for amusing and provocative mash-ups; rap mixes with fiddle music, doo-wop with new wave, and every thing in between…all while avoiding the obvious, 'been there, heard that' stuff you get from most DJs."
The Hard Sell series aren't as ground-breaking as Shadow and Cut's Product Placement and Brainfreeze performances, but it's still pretty creative, especially in light of the pathetic hip-hop DJ scene (which seems to have reached new nadir.) Unfortunately, after these seven shows, the only way you'll get to experience it is by purchasing DJ Shadow and Cut Chemist present The Hard Sell (Encore) two-CD set or The Hard Sell at the Hollywood Bowl DVD.
7/16: 9:30 Club, Washington, DC
7/17: McCarren Park Pool, Brooklyn, NY
7/18: House of Blues, Atlantic City, NJ
7/19: Indian Lookout Country Club, Mariaville, NY
7/25: Roseland Theatre, Portland, OR
7/26: Showbox, Seattle, WA
7/27: Pemberton Festival site, Pemberton, BC
7/27: Pemberton Festival
The Plug One Q&A: Cut Chemist
www.myspace.com/pillageroadshow