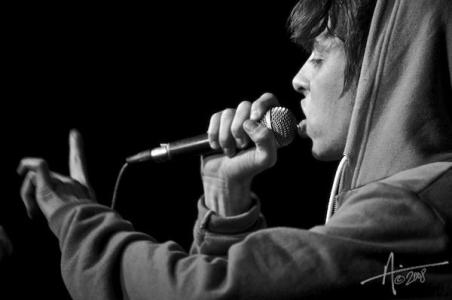 While Mr. Lif takes a break from his ongoing tour in support of "I Heard It Today," opening act and Mac Lethal buddy Grieves heads out on a brief run amusingly titled the Falling Off Your Shoes tour. The San Diego prospect just issued his second disc, the self-released 88 Keys and Counting.
5/08: Black Market Goods, Albuquerque, NM
5/10: Box Awesome, Lincoln, NE
5/11: Nutty's North, Sioux Falls, SD
5/12: The Aquarium, Fargo, ND
5/13: The Picador, Iowa City, IA
5/15: The Canopy Club, Urbana, IL
5/16: Mac's Bar, Lansing, MI
5/17: Broadway Joe's, Buffalo, NY
5/18: Johnny Brenda's, Philadelphia, PA
5/19: Knitting Factory, New York, NY
5/24: Canterbury Park, Shakopee, MN
5/08-6/13: w/Budo
5/08-5/17, 5/19: w/Macklemore
5/18, 5/20-5/23, 6/13: w/Mr. Lif, Willie Evans, Jr.
5/24: Soundset 09
Photo by Todd Zimmer.