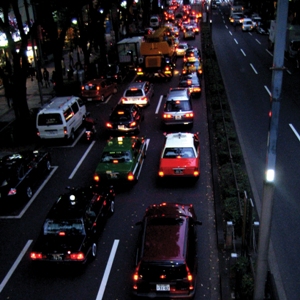 Nicolay is set to release a new instrumental album City Lights Vol. 2, a sequel to the 2005 edition. The CD drops September 15 on Foreign Exchange Music/Hard Boiled, and the digital version is available now at online retailers. However, Nicolay has released a statement asking fans not to purchase City Lights Vol. 2 on iTunes.
Here's the explanation he posted online last weekend:
Friends and Family,

Nic and I are proud to announce the digital release of 'City Lights 2: Shibuya', available right NOW.

The good news is that the full 'Shibuya' album is available for download on Amazon, eMusic, Rhapsody and other digital music retailers.

The bad news is that iTunes has decided to list 'Shibuya', as well as 'Leave It All Behind' (?!?!??!?!!) as "partial." Essentially, what this means is that you (the consumer) will be charged more money for buying the full album from iTunes, and that me and Nic won't receive credit for the album sales on SoundScan.

We are asking all of you who plan to purchase the full digital album to please do so via Amazon or any other music retailer, and not via iTunes. Not only will you get it for a cheaper price, but me and Nic will also get credit for the sale. In the very near future, Nic and I will be launching our own digital store via www.theforeignexchangemusic.com to ensure that we're not beholden to any more corporate bullshit that keeps our fans from getting great music at a fair price. We sincerely apologize for any inconvenience this may have caused you.

For those of you who still buy your music the old-fashioned way, 'Shibuya' will be in stores nationwide on Sept. 15, and we will have CD's for sale during our upcoming west coast shows.

Thank you for listening, and we hope you enjoy the record!

Peace,

'Te and Nic..
In regards to the music on City Lights Vol. 2, here's an excerpt from the press release:
The idea for Shibuya, the second installment in Nicolay's City Lights series, was conceived after Nicolay's first visit to Tokyo in November 2006. The experience proved to be life changing for Nicolay, who has studied Japanese culture for most of his adult life. "This amazing place and all of its sounds and colors immediately filled up my senses," he says. "I felt reinvigorated."

Once back home, he started to write and record music with a new-found sense of freedom, laying the groundwork for the albums Time:Line and Leave It All Behind as well a third album; a deeply personal homage to the Tokyo district of Shibuya that illustrates both the grandeur of Japan's age-old heritage ("Meiji Shrine, "Rain In Ueno Park", "The Inner Garden") as well as the hectic city life of one of the world's busiest metropolitan areas ("Crossing", "Satellite", "Bullet Train"). Where City Lights Volume 1 was primarily instrumental, on Shibuya the instrumental pieces are book-ended by several vocal songs written by Phonte and performed by Durham, North Carolina vocalist CARLITTA DURAND, who previously collaborated with Phonte on LITTLE BROTHER's Getback album (ABB 2007). Also appearing is Foreign Exchange liveband-mate ZO!, who adds his virtuoso keyboard solos to two songs.

"It truly is like stepping into a different world", says Nicolay about his trip to the city. "What fascinated me most about Shibuya was the co-existence of 'old' and 'new' in seemingly perfect harmony. The most advanced technologies and innovations exist next to traditions that are rooted in thousands of years of civilization." The album's musical foundation mirrors this hybrid of different ages, combining influences from '70s jazz, rock and fusion with broken beat, downtempo and electronica to form the lush, genre-bending sound that has become Nicolay's trademark.
All caught up now! Finally, here's the track listing:
1. Lose Your Way (feat. Carlitta Durand)
2. Shibuya Station
3. Crossing
4. Rain In Ueno Park
5. Satellite
6. Saturday Night (feat. Carlitta Durand)
7. A Ride Under The Neon Moon
8. Omotesando
9. Meiji Shrine
10. Shadow Dancing
11. The Inner Garden
12. Bullet Train
13. Wake Up In Another Life (feat. Carlitta Durand)
14. Departure
15. Shibuya Epilogue (feat. Carlitta Durand)
"Lose Your Way" (feat. Carlitta Durand)