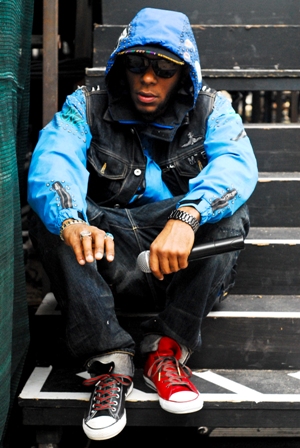 On January 1, I posted a list of "Ten anticipated albums for 2009." How did I do?
As the year draws to a close, it appears that out of 20 albums on the list, 15 were released (counting Thavius Beck's Dialogue, which was released digitally in the U.S. and on CD in the UK.) My accuracy ratio was a decent but unspectacular 75 percent. On the main "ten anticipated albums," eight were released, good enough for 80 percent. The addendum, "Other releases to watch for," featured 7 albums that actually reached retail stores.
Beyond that, however, were these albums any good? Let's recap the entire list.
Hudson Mohawke's debut album (Warp): This may be the most hotly-anticipated of the electronic/hip-hop crossovers. Warp has a good track record of signing underground sensations who go on to record their best material for the label, with Autechre, Prefuse 73, Boards of Canada and Antipop Consortium being among the many examples. (tentative release date: Spring '09)
Post-game analysis: Released October 13, Butter was not the game-changer I expected. HudMo relied too heavily on his synths-on-45, turning it into a kitschy effect; and even halfway decent beats such as "Trykk" sounded alarmingly tweaked out. With a surfeit of straight-up banging and uncomplicated beats, Butter was a disappointment.
Zion-I, The Takeover (Gold Dust Media): I've heard this album, and I can safely say that it's Zion-I's best to date, maybe as good as those cassette EPs they used to release back in the day. But will fans and critics give them their due recognition? People who don't live on the West Coast tend to sleep on/underrate them. (release date: January 27)
Post-game analysis:Though arguably one of Zion-I's better recordings, if not necessarily their best, The Takeover earned mix reviews. Amp Live continues to be misunderstood for his pop explorations, and Zion doesn't get the respect as a lyricist he deserves. Maybe he needs to rap about crack and turnin' his swag on?
Willie Isz, Georgiavania (Lex Records): Khujo and Jneiro Jarel have been leaking tracks from their forthcoming collaboration for the past several months. Some have sounded impressively soulful and reflective ("In The Red"), while others have sounded tinny and strange ("Gwan Jet"). It seems as if all the leaks — many which you can hear on Willie Isz's MySpace page — are meant to get listeners comfortable with their unusual sound before the full-length drops. At the least, it should be an adventure.  (tentative release date: late February/March)
Post-game analysis: Released June 30, Georgiavania was indeed an unusual experience. Jarel switched from his galactic future soul to a Gothic form of crunk, with Khujo supplying dirty South authenticity. Their world demanded immersion, and rewarded it with dark yet uplifting sounds. Like so much of Jarel's catalog, Georgiavania probably won't be fully appreciated until years from now.
Talib Kweli & DJ Hi-Tek as Reflection Eternal (Warner Bros.): There's some speculation whether this will come out now because Kweli's Blacksmith management has split with Warner Bros. But I think that Warner Bros. still wants him on the label — it just didn't feel like pushing Blacksmith's underground slate (Jean Grae, Strong Arm Steady) to the mainstream. Kweli's last album (2007's Eardrum) was pretty good, and Hi-Tek is long overdue for a breakout year. Keep your fingers crossed that Warner Bros. doesn't let this one rot on the shelf. (tentative release date: TBA)
Post-game analysis: I should have remembered that any Warner Bros. hip hop release that isn't made by a Southern swag rapper will "rot on the shelf." I'm confident that the Reflection Eternal reunion will eventually drop because interest is high, and Talib Kweli sells a decent amount of records. But it's anybody's guess when Warner Bros. will finally issue it, or whether anyone will still care.
Sa-Ra Creative Partners, Nuclear Evolution: The Age of Love (Ubiquity): Sa-Ra's 2007 debut was a patchwork of old singles and leaked tracks, detritus from their stillborn deal with G.O.O.D. Music/Sony. It sounded like leftovers. This upcoming affair should be much more fresh and cohesive, provided that blogs don't leak the whole thing first. (tentative release date: spring '09)
Post-game analysis: Released June 23, Nuclear Evolution was a collection of old material, too, even if it was unfamiliar to all but the most committed of file-sharing geeks. However, it earned the group its best reviews to date, thanks to tracks such as the 10-minute masterwork "Love Czars." What would a real Sa-Ra album sound like? To hear the trio tell it, we may never know if the industry continues to sleep on them…and even then, they may never tell us.
Kid Cudi, Man on the Moon (Fool's Gold/Downtown): I wasn't feeling this song at first, but lately it has resonated with me. Kid Cudi (pictured above) seems to have found a way around the auto-tune nightmare that has ruined rappers' impulse to harmonize; it's not exactly Cold Crush Brothers, but memorable nonetheless. An openness to electronic styles like soulful house could make this an intriguing debut. (tentative release date: TBA)
Post-game analysis: Released September 15 on Universal Motown, Man on the Moon: The End of Day was a mixed bag. With portentous "narration" by Common, this muddled audio movie relied too heavily on Kid Cudi's monotone crooning. It had a few good cuts, particularly a clever remake of Lady Gaga's "Poker Face" (first retitled "I Poke Her Face" and then "Make Her Say") and the druggy club track "Enter Galactic (Love Connection Part 1)." But it's never a good look when your mixtape (2008's A Kid Named Cudi) is better than your album.
Dam-Funk, Toeachizown (Stones Throw): Dam-Funk is another dude who has leaked MySpace joints for many months now. He's already released a few 12-inches, as well as an edition for Stones Throw's Rhythm Trax series. But I expect Toeachizown to be a head-scratcher on par with James Pants' Welcome. When I first heard that album, I disparaged James Pants for making a good demo tape. It was faint praise. Almost twelve months later, I still can't stop thinking about that album. (tentative release date: Spring '09)
Post-game analysis: Dam-Funk's Toeachizown marked the arrival of the throwback-boogie phenomenon, even though some enterprising critics tried to make it "indie" (re: white) and call it "chillwave." Whatever. Even at two CDs and two-and-a-half hours, Toeachizown unfurled elegantly, like a grand space opera. Similar to Derrick May's Innovator, it's a collection of genre-making synth-funk that impresses with its breadth and consistency.
Anti-Pop Consortium, Flourescent Black: It's been over a year since the four members of Anti-Pop announced they were reuniting, and still no word of when the album will come out, or even which label will release it. (However, they've performed several NYC shows.) I imagine something will drop before the next edition of All Tomorrow's Parties takes place in September; APC are scheduled to make a key appearance there. (tentative release date: TBA)
Post-game analysis: Even after being apart for seven years, Anti-Pop didn't miss a step. Released on September 29 by Big Dada, Fluorescent Black contained classic Anti-Pop elements, from next-level battle raps stocked with witty punch lines to dense yet organic electronic tracks.
Charles Hamilton debut album (Interscope): Sonic the Hamilton's album will most likely be a highly commercial mix of styles meant to entice hipsters, backpackers and teenyboppers alike. The question is, will he get the formula right? (tentative release date: TBA)
Looking back: Charles Hamilton went through one of the most incredible meltdowns in recent memory, from getting punched by an ex-girlfriend/blogger on YouTube to inciting Maureen "Ma Dukes" Yancey's wrath when he claimed he knew J Dilla. After going into seclusion for a few months, and even shuttering his website for a time, Hamilton re-emerged in November with promise of new mixtapes. Unfortunately, Interscope dropped him from its roster over the summer.
Mos Def, The Ecstatic (Downtown): Since his classic 1999 solo debut Black On Both Sides, Mos Def has concentrated most of his energy on his acting career, with fantastic results. Though not yet a lead actor, Mos has scored meaty supporting roles in critically acclaimed films and box office hits. Unfortunately, he's subsequently used his music to indulge his artistic whims, making for meandering and unfocused albums like 2004's The New Danger. At the beginning of 2008, he announced that he was teaming up with Kanye West (who also made beats for The New Danger), perhaps a sign that he wasn't going to fuck around this time. Whatever The Ecstatic turns out to be — another classic or another mess — it should be interesting. (tentative release date: Spring '09)
Post-game analysis: Released on June 9, The Ecstatic proved to be Mos Def's comeback, both artistically and commercially. Nominated for a Grammy in the hip hop album of the year category (along with, ugh, Flo-Rida's R.O.O.T.S.), The Ecstatic was the culmination of musical elements that he had experimented with for years, from ragga hip hop and bhangra to neo-soul and black rock, though rarely as successful as here. Although Kanye West didn't appear as previously announced, his absence was more than compensated by Madlib, Oh No and Georgia Anne Muldrow.
Other releases to watch for:
MF Doom (Lex)
Post-game analysis: Now calling himself DOOM, Daniel Dumile's first solo album in five years, Born Like This was a memorably dark and curmudgeonly experience. Some reviewers and fans used it as an opportunity to criticize him and how he uses "doomposters" for his shows. But few could deny that, as a journey into the mind of someone truly at odds with society, it was worth the wait.
Mr. Lif, I Heard It Today (Definitive Jux, April 13)
Post-game analysis: On April 21 Mr. Lif released his fourth album on his label, Bloodbot Tactical Enterprises, with distribution help from Traffic. The sharp political commentary and hodgepodge beats were a throwback to his well-liked debut, I Phantom.
Thavius Beck, Dialogue (Mush?)
Post-game analysis: Big Dada released Dialogue in the UK first, prompting Mush to issue a digital version early. The U.S. CD version hits stores on January 26.
J. Medeiros, Friends Enemies Apples Apples (Quannum)
Post-game analysis:This onetime member of the Procussions dropped an album, but it wasn't on Quannum, which suffered distribution problems for most of the year. (It's reportedly aligning with Sony/RED Distribution.) Instead, J. Medeiros released it himself. I haven't heard it.
Nosaj Thing (Alpha Pup)
Post-game analysis: Released by Alpha Pup on June 9, Nosaj Thing's debut was a surprisingly original endeavor, completely diverging from the "wobbly"/"wonky" template that dominated beats production in '09.
new Themselves album (Anticon)
Post-game analysis: Dose One's heralded return to hip hop dropped October 13. With its acidic, experimental tones, it wasn't a straight-up rap affair, however. Ten years after "It's Them," he and producer/rapper Jel know that you can't go home again.
The Cool Kids, When Fish Ride Bicycles (Chocolate Industries)
Post-game analysis: I didn't include this in the main top ten list because I was fairly certain it wouldn't come out in 2009; I hedged my bets, if you will. But the Cool Kids made a few strategic moves that bode well for the future. They seem to have successfully extricated themselves from the widely-discredited "hipster rap" trend (see Kid Sister, et cetera) in favor of the "blog rap" phenomenon, which is less threatening to the meat-and-potatoes rap nation. A tour with Clipse also helped. Judging from a cursory look at the group's MySpace page, the Chocolate Industries deal for 2008's The Bake Sale may have been a one-off. I would not be surprised if their production company, Cake Recordings, partners with a bigger label for the next album.
Evidence, Cats & Dogs (label TBD)
Post-game analysis: Evidence dropped an EP on Decon Records, then signed with Rhymesayers Entertainment last summer. Look for Cats & Dogs to drop sometime during the first half of 2010.
Finale, A Pipe, A Dream & A Promise (Interdependent Media)
Post-game analysis: Released April 7, Rawkus 50 survivor Finale's second album got plenty of indie-rap/blog love, thanks to beats from Dimlite, Flying Lotus, Kev Brown and others; and a uniquely tangled approach to the art of MC'ing.
Danny! (Definitive Jux)
Post-game analysis: Danny! promised for much of 2009 that his new project, Where Is Danny?, would drop via Definitive Jux. Then he released it to the Internet for free, and said that it would get a legitimate release soon.